Gain total control

inside, and outside of the lab
Sona Systems is the leader in participant pool management software, helping thousands of research coordinators and researchers around the world set up lab studies and online studies.
Run single or multiple part studies

Connect with Qualtrics, SurveyMonkey, SurveyGizmo and other API's
Seamless

timeslot selection and participation
Participants can sign up for in-lab studies or online studies by selecting available timeslots. Those who choose to complete their study online can save progress and complete studies right away or at their leisure.
Participants can quickly sign-up for available timeslots

Save and continue later feature (online only)

Automated notifications and study reminders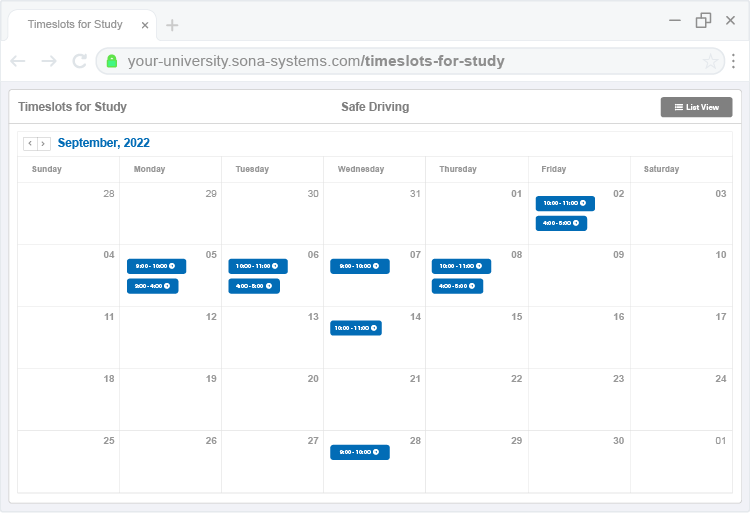 View, manage, and edit

any study with ease
Administrators can view the name and email of all researchers and the supervising faculty member, the study duration, and the credit point value.
Get an overview of study including duration, credit value, and eligibility

Establish study restrictions and eligibility

Background image for participants to see
What Customers Say
"My colleagues were very pleased with how the system operated in our first semester. It improved management of research enormously. It also allows us to collect data systematically on how much research we are doing for the first time. Thanks!"
"Our university previously used Sona's predecessor system and was initially reluctant to transition to Sona system. We continued to encounter and desire functionalities that were not available in our prior system, but that Sona provided and supported. Sona made the transition to their system seamless and were on-hand to answer questions during roll out. To this day, any time that our university has questions, we receive a response within hours regardless of whether we email during or "outside of" business hours. As of yet, there is not a single inquiry that they have not been able to expediently get to the bottom of. If there is something you think you cannot do in Sona, I encourage you to ask about the functionality. Sona welcomes feedback on functionality and routinely updates their system to incorporate user requests. We have been very satisfied with the product and the supports that Sona System provides."
"Overall, the system is fantastic. In fact, the system is so well received that I received an accolade for "Graduate Student Teaching", as I facilitated a smooth transition between systems and subsequently "educated the department"– no doubt I have the Sona support team to thank for making the transition so fluid."
"I tell all my colleagues at other institutions not only about the software, but about the extraordinary customer support. How you all manage that level and speed of support is amazing!"
"Imagine nearly 8000 student sessions, hundreds of experiments, dozens of researchers, and you sitting in the middle of a sea of paper, complaints, missed sessions, confused students, frustrated experimenters and educators, and many millions of dollars in research grants on the line for a department with a #1 nationally ranked program. Now imagine, in the span of 1 quarter, removing almost all paper and providing 24/7 access, increasing participation, greatly reducing staff time and errors, providing real-time feed-back and reporting to all concerned parties, and sailing through Human Subject approval with a turn-key system. Furthermore, imagine no server management costs, and no technical staff time needed beyond walking staff through initial setup, and you have our experience with Sona Systems."
"One of the best things about the system is your staff – they are incredibly responsive and I never have to wait long for help. This is really essential – usually when I send queries to you, it's because I have received a query myself from a confused participant or researcher. I can always rely on your staff to respond to my questions within hours, so it's really very helpful to be able to get back to people so quickly."
"The software has been a wonderful asset for the department! Not only has it made my job 2-3 times easier and more efficient, but it also makes the students' job the same, thereby increasing the number of them who finish their research requirements successfully."
"Sona Systems has greatly improved the efficiency of our office, and your customer service is excellent!"
"The Sona scheduling software has revolutionized the Research Participant Group operated by my lab. Its ease of access has increased usability for both participants and researchers, and most importantly, has improved signups and the level of support we can offer. Using this software, my lab has grown a flourishing group of participants who are active and engaged. This software platform has allowed us to easily recruit large volumes of participants on short timelines. I can't recommend this software highly enough."
"Sona Systems provides an online experiment management system that is user-friendly and compliant with human subjects' regulations. What really sets Sona Systems apart from other companies, though, is their interest in constantly improving the system and incorporating customer feedback into upgrades."
"Sona Systems has responded rapidly to our specific needs and the great customer support made for a smooth transition."
"The experiment management software has considerably reduced the staff time needed to manage all our experiments. The web-based interface has made it easy for our students to sign up for experiments. They no longer have to come to our offices and use paper sign-up sheets."
"Our site runs on Sona Systems servers, and it has always been fast and reliable. More importantly, we don't have to involve our own IT staff in the operations of the software, which is a big advantage for us."
"After switching to the Experiment Management System from Sona we experienced the usual growing pains of switching to a new system. Most of the issues could be solved by referencing the excellently written documentation that is provided and for the occasional questions an email to the support team. Every email I have sent to the support team was answered incredibly quickly a with a smile. Sona Systems has by far the best support team I have ever seen. Keep up the amazing work, and excellent product."
"I'm impressed with your software. You've certainly covered a lot of bases (most of which I would never have anticipated) with the system preferences and features."
"The entire department is VERY pleased with the Sona Experiment Management System and how it makes our work so much more efficient."
"It has made research more feasible here, increased student participation in studies and generally decreased our workload. What more could we want! Thanks for a great product and great support."
"I just wanted to say what an excellent system you've produced. I don't usually feel motivated to contact companies and tell them how good I think their product is, but your system is just so well-designed, easy to use and reliable that I felt moved to do so in this case! To be honest, when it was first suggested that we try the system, I was very skeptical about whether it would be worth it, but having used it these past few weeks, I'm a convert – it has made running experiments SO much easier for me! So – well done!"
"I feel privileged to write this testimonial because I am highly impressed with the Sona system and the amazing support that is offered. I was introduced to the Sona system as a user primarily and simply loved its various features which helped me in managing my research. Now, as the administrator of the Sona system for JCU Singapore, I even adore it more because whenever I face challenges, the prompt technical support helps me to get the things done right on time and makes my life easier. I truly endorse the Sona system and would highly recommend it to other universities/institutions for efficient management of their research programs. It's a paperless online system which also helps in going green, reducing paper waste and saving our planet."
"The software has made the staff here very happy. Sona Systems software is some solid coding and their support is of a rare caliber."
"I am so delighted that we chose to team with Sona Systems to help manage our research study. The system is elegantly designed and very intuitive to use, allowing our research staff to easily recruit, screen, and track our participants from start to finish. I cannot say enough about the customer support offered – they are just amazing human beings who have provided me with countless solutions to any question I had about how to best use their system for the study's needs. I am very impressed with the entire Sona experience and recommend it highly."
"We have found the Sona system to be extremely well designed and entirely suited to our needs. It has transformed the way in which we administer participation credit and has been of distinct benefit to staff and students alike. As many others have noted, the customer service is superb."
"As a new lab manager, using Sona Systems has been vital in the success of my lab. I have been able to increase my subject pool by 150% recently and have more efficient studies overall."
"Our experience with Sona has been very positive. The system is reliable and it allows us to manage an important business process with relative ease. The staff at Sona Systems communicate proactively when there are changes to the software and they respond to input from their customers."
"This is an incredible system and the support is simply brilliant! The number of students failing to complete required hours is a mere fraction of what it used to be."
"The rates of incompletes in the semester after we started using the Experiment Management System dropped to under five percent as compared to incomplete rates of around 20 percent using pencil-and-paper sign-ups. In addition, research participation easily doubled as compared to students who chose alternative forms of research credit. As a research pool coordinator, I like the fact that all the features mentioned make my job so much easier and free up time for me to do what I want…research. The instructors in the department like the system because they do not have to rely on me to receive information about their students credit."
"Your system is awesome. I'm very impressed with your courtesy and customer service. Your prompt and professional replies to email is outstanding. Everyone in our department: instructors, students, experimenters, and me as subject pool coordinator LOVE the system. The frequent updates and flexibility make your system really stand out."
"I've been continually impressed with your responsiveness to your customers combined with the elegance of your solutions."
"The system seems to be working really well, and clearly improving the throughput of participants. Remarkably hassle-free, given the numbers involved."
"Sona really is a 'golden' system. We use it to manage our participant pool and we can't imagine using anything else. It is easy to use, incredibly versatile, and affordable which is important in this sort of economy. We love the system."
"Our UNM faculty and students have found the system both easy to use and extremely convenient. It has replaced an antiquated paper-based signup system, eliminated "lost" paper-signups, improved student security, and has dramatically improved the speed for getting credit to students after their participation. Our students are also more likely to participate in research studies than defer to alternatives (for example, writing reports on published research)."
"Sona Systems software has been a tremendous asset to the department and is incredibly user friendly. Customer service is unsurpassed!"
"The software was has so many configurable features, it met our unique needs perfectly.Sona Systems staff is always extremely responsive and helpful whenever we have questions. Sona Systems is continually adding new features to improve the software, many based on our requests."
"The Sona Participant Management System has been a fantastic solution for the PEEL Lab for many years. Their support team is amazing, highly responsive, and has been incredibly helpful by creating solutions for PEEL specific issues such as the implementation of custom APIs. Many Thanks!"
"Managing experiment sign ups for two to three thousand students a term is one of the easier parts of my daily grind thanks to the quality work you guys do."
"Sona was instrumental in helping us to establish a subject pool at University of California, Merced, the 10th UC campus. Low-maintenance and easy to use, Sona made it possible for our faculty and students to collect thousands of data points in a short period of time, and it gave student participants valuable learning opportunities. Cognitive Science, Political Science, Psychology, and Sociology have already benefited from Sona here at UC Merced, and we expect more participation in the coming years."
"In all my 25 years of running studies, I have never had 100% of those who signed up for my study actually show up — until we started using Sona Systems software."
"We just wanted to thank you for all your help and support during our first year. The pool would have collapsed without your software, partly because it was our first attempt at running a pool but mainly because of our very large student numbers, which would have led to impossible administration problems. Your system works extremely efficiently and we would have no hesitation in recommending it to other Psychology departments."
"This system has been an exponential improvement over our old paper-based system and saved us countless hours of work."